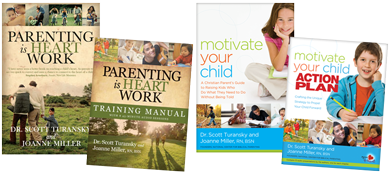 There are four books your coach is using in this program. You don't have to read all of this material, but it's here in case you're interested in reading along as well. You don't have to read any of this to benefit from the coaching relationship, but many parents want to read something as they are moving forward. If you'd like to just read one book, we suggest reading "Parenting is Heart Work" and you can follow the suggested chapters below.
Each week you'll have suggested reading for that week. If you would like the books, you may obtain them at a discount from the National Center for Biblical Parenting by
If you want to get started early, here is the Suggested Reading Assignment for Week #1.
Read the Introduction and Chapters 1 and 2 of Parenting is Heart Work
Read Chapters 1, 2, and 12 of Motivate Your Child Action Plan
Read the Introduction and Chapters 1 and 2 of Motivate Your Child
Readh Chapter 1 of the Parenting is Heart Work Training Manual