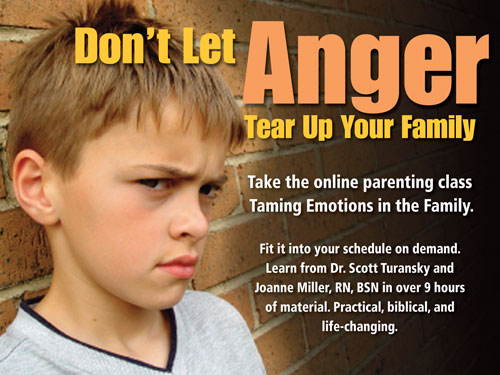 BPU 201: Taming Emotions in the Family
Course Descriptions: Watch four hours of teaching by Dr. Scott Turansky and Joanne Miller, RN, BSN providing you with many practical and biblical tips for handling the emotions in your family. In addition watch five hours of webinars where Dr. Scott Turansky is counseling with a family while others are listening. This gives you very specific advice and shows you how the plans can be tailored to each of these families.
In this class you'll learn:
• A specific plan for helping children deal with anger.
• Tools for reducing parental anger and moving away from yelling at kids.
• Three parts of a bad attitude and how to use a heart-based approach to change them.
• Why children have a hard time with 'no' as an answer and what to do about it.
• How to address children who argue, whine, or badger.
• And much more.
Here's how it works.
• Purchase the class and sign on when it's convenient for you.
• Access the class anytime on demand.
• The class teaching is broken into 5-minute segments for busy parents.
• Each segment is followed by a 3 question quiz to help you integrate the material.
• Some of the segments you may want your kids to watch.
Here are some comments from people who've already taken the class.
"I am very much enjoying the new BPU. The short lessons are just right for my busy schedule as a single mom working full time and homeschooling. I especially like that I can watch the videos on my iPad or any of my computers at home or at work depending on when I get a few minutes to spare! Thank you so much for making this resource available." —Heather
One mom wrote, "I have learned a lot in the first five segments. It's been helpful to recognize that anger is a 'warning signal' that identifies a problem. The five causes of anger really helped shed light on patterns in my family and myself. The difference between firmness and harshness was wonderful. This is a wonderful and practical way to bring a 'seminar' feel to my home but with the five minute intervals, much more practical for my time schedule and life!" —Christine
This class will change the way your family relates.